Let's Talk About Sunscreen
DISCLAIMER
This blog has not been approved by your local health department and is not intended to provide diagnosis, treatment, or medical advice. Read More

This blog has not been approved by your local health department and is not intended to provide diagnosis, treatment, or medical advice. The content provided on this blog is for informational purposes only. Please consult with a physician or other healthcare professional regarding any medical or health-related diagnosis or treatment options. Information on this blog should not be considered as a substitute for advice from a healthcare professional. The claims made about specific products throughout this blog are not approved to diagnose, treat, cure, or prevent disease.
In this article: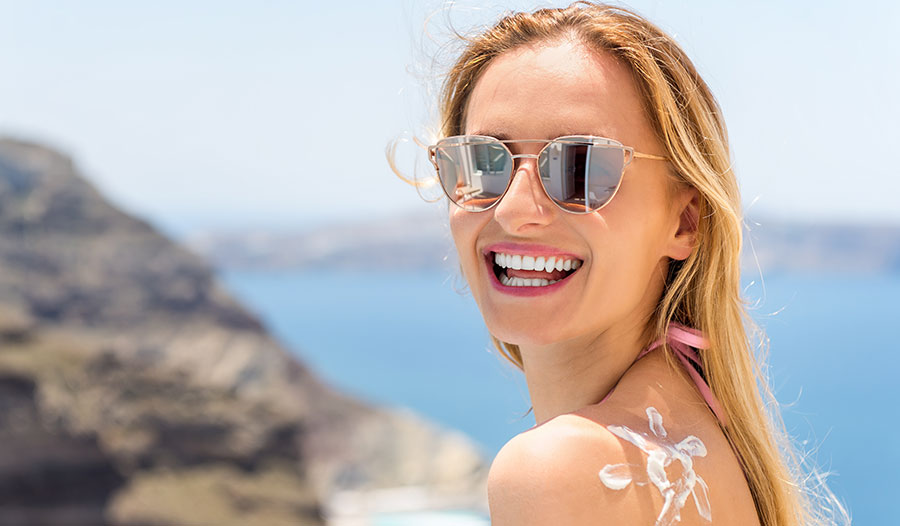 You've probably heard it's important to wear sunscreen, but how important is it and do you need to wear it every day? Must you wear sunscreen during the winter months even when it's raining? The answer is yes, and let's take a moment to understand why.
Broad-spectrum sunscreen is the best thing you can incorporate into your skincare routine to maintain healthy skin and prevent premature aging. Regardless of where you live, the time of the year, your age, or your skin type, there are many reasons sunscreen is important. Before we jump into different types of sunscreen and product recommendations, it's important to understand why sunscreen is a must for your skincare routine.
‌‌‌‌Why Should You Use Sunscreen?
The obvious reason is to avoid a painful and unsightly sunburn. But sunscreen is important to use daily for many reasons. First, it lowers your risk of getting skin cancer. Properly applied sunscreen blocks UV radiation, which is the top risk for developing skin cancer. UV radiation also causes damage to your skin that leads to inflammation and dark skin patches referred to as hyperpigmentation. While it's true that people with darker skin are less likely to burn, they are more likely to develop hyperpigmentation from sun exposure. For people with skin sensitive conditions such as rosacea and lupus, avoiding exposure to UV rays helps to minimize flare-ups and redness associated with sensitive skin.
Using sunscreen regularly also prevents premature aging due to sun exposure. Exposure to UV radiation causes a breakdown of collagen and elastic and this leads to fine lines, wrinkles, and a loss of skin firmness. Most of the visible signs of aging are from ultraviolet radiation. Using a broad-spectrum sunscreen is the best thing you can do to maintain supple, youthful-looking skin longer.
‌‌‌‌Know The Sunscreen Basics
Finding a sunscreen that you like and that is convenient for you to use will motivate you to use it regularly. Sunscreens are available in sprays, lotions, creams, sticks, powders and they come in different scents with different features. Finding one that you love will ensure you don't skip the critical step in your daily skincare routine. Before we get into my recommendations, let's briefly get down to the basics of sunscreen ingredients and terminology. That way, you will know what you are getting in a product and can better understand your specific sunscreen needs so you can choose one that's right for you.
A broad-spectrum sunscreen protects you from both ultraviolet A (UVA) and ultraviolet B (UVB) rays. UVA rays lead to premature aging and UVB rays cause your skin to burn and are the primary cause of skin cancer. The UVB rays also contribute to premature aging. UVA rays pass through glass, so your skin can get damaged while you are driving in a car and even while you are sitting in the shade as the light is reflected off surfaces around you.
The sun protection factor (SPF) is how well a sunscreen protects you from burning. The SPF number informs you how much UVB light the sunscreen can block out. A sunscreen with SPF 30 blocks 97% of the sun's UVB rays and SPF 50 blocks 98%. Nothing blocks 100% of the UVB rays but the more the better. Medical professionals recommend using sunscreen with at least SPF 30. No sunscreen is waterproof but some are water-resistant. A water-resistant sunscreen will stay on your skin for 40 minutes if you sweat or get wet. Very water-resistant sunscreen can stay on your skin for up to 80 minutes when wet. No matter what type of sunscreen you use, it needs to be reapplied every two hours to be effective and every 40 or 80 minutes if it is water-resistant and you get wet or sweaty.
The final key to understanding sunscreens is how they protect you. A chemical sunscreen protects you by absorbing UVA and UVB light. Chemical sunscreens include ingredients such as oxybenzone, homosalate, octocrylene, avobenzone, and octinoxate. They are usually quickly absorbed and invisible on the skin. A physical sunscreen protects you by deflecting the sunlight. Ingredients in physical sunscreens include titanium dioxide and zinc oxide. These products are also referred to as mineral sunscreens and work well for children and people with sensitive skin. Sometimes physical sunscreens can leave a whitish cast on the skin, but many modern formulas have figured out ways to avoid the white cast. Both physical and chemical sunscreens equally protect you. The active ingredients are always listed and often you will notice a combination of different ingredients. Additional things to look for in sunscreen products are those that are oil-free, paraben-free, and noncomedogenic. This will help avoid breakouts or clogged pores if you are prone to those skin conditions. Some sunscreens have ingredients to help improve acne-prone or sensitive skin with additional ingredients in the formula to address and improve skin conditions.
‌‌‌‌Top 10 Picks for Broad Spectrum Sunscreen
Now that you know why to wear sunscreen and the basics about formulas and ingredients. You are ready to pick the sunscreen that will work best for you. Here are some recommendations for broad-spectrum sunscreens:
I love all of the products in the Neutrogena Hydro Boost line. The Hydro Boost Water Gel Lotion Sunscreen is invisible when applied to the skin and it feels ultra-light. It's not greasy and the formula is oil-free. This chemical sunscreen is ideal to apply on the face or body and is an award-winning formula. Neutrogena is also the #1 recommended brand by dermatologists. This water gel lotion contains ingredients such as hyaluronic acid to help skin stay hydrated and it's a water-resistant formula (80 minutes). Makeup can be applied over this sunscreen and the gel feels refreshing and cool as it's applied. The skin-loving ingredients hydrate skin for up to eight hours.
Mad Hippie's brand new Hydrating Facial Sunscreen with SPF 25+ is mineral-based and contains ingredients including shea butter, carrot seed oil, and raspberry seed oil. Raspberry seed oil is a natural antioxidant and carrot seed oil has anti-inflammatory properties and is touted as an outstanding oil to rejuvenate skin. Mad Hippie's formula also contains vitamin C, ferulic acid, and nourishing botanicals. The product is cruelty-free, vegan, Leaping Bunny-certified, and reef safe. It's water-resistant (80 minutes) and the packaging is the cutest! But packaging aside, the brand is serious about clean skincare products that are safe and effective. This is definitely one to check out.
Thinkbaby SPF 50+ Sunscreen is a top-rated physical formula. The small size is perfect for your purse, pocket, or backpack. The active ingredient is zinc oxide and this formula is ideal for sensitive skin and is recommended for adults and children. Thinkbaby is cruelty-free, paraben-free, and can be applied to the face and body. The formula is not greasy and is quickly absorbed. Thinkbaby is also water-resistant for 80 minutes.
Alba Botanica's Natural Hawaiian Sunscreen SPF 45 is cruelty-free and Leaping Bunny-certified. This sunscreen smells beautiful and the scent is from all-natural ingredients. The formula is also reef safe. This product is very water-resistant (80 minutes) and is biodegradable. Alba Botanica's sunscreen is packed with botanicals such as orange peel oil, aloe leaf juice, calendula flower extract, ginkgo Biloba leaf extract, lavender flower extract, and more. Many of the botanical ingredients are organic and contribute to healthy, moisturized skin.
Another best-selling dermatologist-recommended brand is Eucerin. The Daily Hydration Cream SPF 30 is a 2-in-1 moisturizer and chemical sunscreen. The formula is lightweight and moisturizing for the skin. Daily Hydration Cream provides up to 24 hours of hydration and contains an ingredient called licochalcone, which is licorice root extract, that helps to soothe skin and promote an even tone. This formula absorbs very quickly and leaves no greasy residue.
If you are looking for a sunscreen that comes in a stick formula, Thinkbaby's Sunscreen Stick with SPF30 is the one to reach for. Consumers truly love sunscreens from Think and if you take a moment to read their reviews, you will see why. Thinkbaby is a mineral sunscreen and the active ingredient is zinc oxide. The formula is in a stick and can be applied to the face and body very easily. This is not an oil-free formula as it contains coconut oil and safflower oil if that is something you are looking to avoid. All of Think's skincare products are cruelty-free and Leaping Bunny-certified. The stick absorbs quickly and is very water-resistant (80 minutes).
Eucerin's Daily Protection Moisturizing Face Lotion Sunscreen with SPF 30 is the #1 rated face sunscreen at iHerb. The active ingredients are a combination of both chemical and mineral-based ingredients. The formula is very lightweight and moisturizing to the skin. Eucerin's sunscreen is fragrance-free and clinically proven safe for sensitive skin. This non-comedogenic formula is ideal for the face since it won't clog pores leading to breakouts.
If a mineral powder sunscreen is something that interests you, Derma E is a cruelty-free brand that has a wonderful selection of skincare products. I've shared many Derma E products with friends and family and everyone loves the Derma E products that I've introduced them to! Their Sun Protection Mineral Powder with SPF 30 is a vegan formula that leaves skin feeling silky soft. It's infused with antioxidants, green tea, chamomile, and vitamin E. This is an oil-free formula, so if you suffer from oily skin this is an option to consider as the powder will help absorb excess oil. It's a translucent powder so it's compatible with all skin tones.
Hawaiian Tropic is known for the incredible scent of its products. As a little girl, I wanted nothing but Hawaiian Tropic products because I loved the tropical scent and today, I still do. It reminds me of my childhood and at the same time makes me think of tropical beach resorts. This newer formula from Hawaiian Tropic is super lightweight and absorbs quickly. I have repurchased this product multiple times. Hawaiian Tropic Sheer Touch contains ingredients such as shea butter, jojoba butter, and mango extract. It's very moisturizing and water-resistant (80 minutes). Sheer Touch Lotion also gives skin a glowy finish for the ultimate luxury experience. To complement the lotion, try Hawaiian Tropic Silk Hydration Oil-Free Face Sunscreen. The two are a dynamic duo!
If you find sunscreen sprays convenient, Kiss My Face Purely Mineral Broad Spectrum Sunscreen with SPF 30 is a great option. The ingredients include aloe and olive oil to nourish skin and the formula is vegan and reef safe. Using a spray can make it really convenient to apply but it's not recommended that you spray the lotion directly on your face. Also, a spray may not be ideal if it's windy outside and you are attempting to reapply the product. As I mentioned earlier, with mineral (physical) sunscreens, a white or gray cast may be left on the skin. With this product, experiment with the spray. When applying the spray, ensure you have a reasonable distance between the nozzle and your skin so it is evenly dispersed and falls onto your skin as a light mist. This will give you an even application avoiding any white cast.
‌‌‌‌Future Proof Your Skin Health With Sunscreen
Now that you are more informed on sunscreens and have some great products to try from iHerb, there's no excuse to skip sunscreen in your skincare routine. In later years, you will be grateful for making the change if you aren't already a diligent user.