How to Make Your Makeup Last Under a Face Mask
DISCLAIMER
This blog has not been approved by your local health department and is not intended to provide diagnosis, treatment, or medical advice. Read More

This blog has not been approved by your local health department and is not intended to provide diagnosis, treatment, or medical advice. The content provided on this blog is for informational purposes only. Please consult with a physician or other healthcare professional regarding any medical or health-related diagnosis or treatment options. Information on this blog should not be considered as a substitute for advice from a healthcare professional. The claims made about specific products throughout this blog are not approved to diagnose, treat, cure, or prevent disease.
In this article: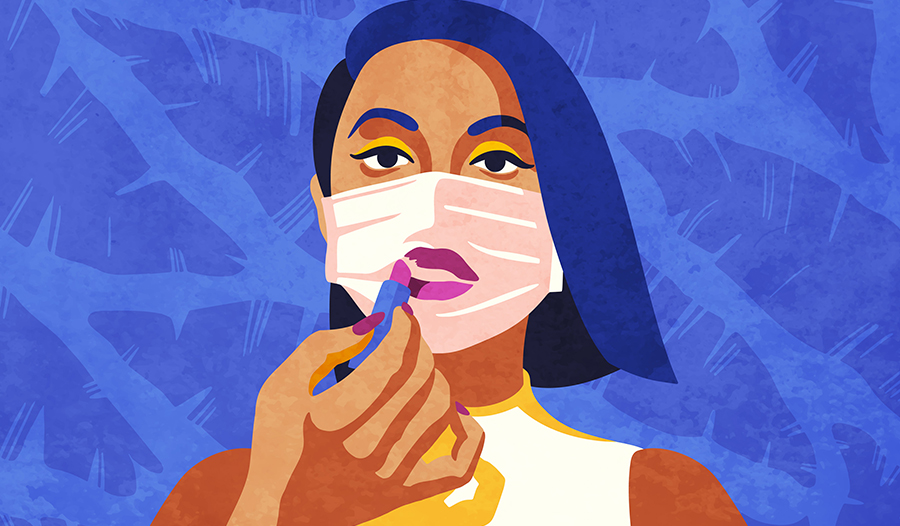 As the global community has been adapting to a "new normal'' over the last few months, perhaps the most significant and challenging difference in our daily routine is wearing a protective face mask while in public. The fashion industry has quickly caught on and is already offering cute and stylish masks but what about our makeup? How will a mask affect our beauty routine? Can we still wear makeup while wearing a mask?
‌‌‌‌Can My Makeup Stay Put Under a Mask?
One of the biggest beauty concerns is keeping your makeup on your face and off your mask. Truthfully, there is no 100% guaranteed prevention technique, but there certainly are steps you can take to keep your makeup in place.
First, you may have to rethink your foundation. The ideal formula for under a mask would be non-transferable, usually marketed as "long wear" or "stay all day." Start with a clean and exfoliated face and prep your skin as usual. Then, apply a loose translucent powder like Innisfree Pore Blur Powder over the entire face. Yes, I said powder before foundation. Allow your powder to settle and then apply your foundation by pressing it into your face with a damp makeup sponge.
Next, apply a cream blush and over that immediately layer a similar powder blush to set. If you are using a highlighter, apply a cream or liquid highlighter and over that, layer a similar powder highlighter and follow with a facial mist, preferably rosewater with glycerin, over the entire face. Wait another minute or two and apply another layer of powder with a damp sponge. Once the powder has settled, mist your entire face with a fixative or setting spray.
This process takes a bit longer than a traditional foundation application, but taking these few extra steps will help keep your makeup in place.
‌‌‌‌Potential Skin Concerns When Wearing A Mask
Not only are we not yet accustomed to regularly wearing masks, our skin is definitely not used to it either. As important and necessary as masks are right now, wearing one may cause your skin to experience some irritation and dryness. The most effective way to combat these issues is prevention.
Unusually dry skin is generally a pretty easy problem to solve with products containing hyaluronic acid—a sugar molecule occurring naturally in skin that maintains your moisture barrier and increases skin hydration levels. Hyaluronic acid can be found in a number of skincare products, such as serums and moisturizers, which you can easily incorporate into your daily skincare regimen. If you find your skin feeling a bit beat up at the end of the day, you can use a sheet mask like Tony Moly I'm Calendula for a boost of hydration or to soothe irritation.
Take a little extra care of your skin at night by using a very emollient night cream like Sukin Moisture Restoring Night Cream and before that, give yourself a face massage by using a jade roller to apply your night time oil or serum treatments. I was a total jade roller skeptic for a very, very long time but now I can say without hesitation that not only am I a convert, but I am also a proselytizer. It improves circulation while it massages your face and applies your serums and oils smoothly and evenly. An extra benefit from using a jade roller is minimal product waste, which is especially helpful considering that skincare products can be pricey.
Another facial feature not to be neglected is your lips. Lipstick may not be front and center right now but it will return and when it does, we need to make sure we are lipstick-ready. Extra care must be taken with plenty of lip balm while wearing the mask, and especially before bed as well as weekly exfoliation with a lip scrub.
‌‌‌‌The Eyes Have It: Play Up Your Eye Makeup
Although we won't wear our favorite lipsticks that often during this time, there are plenty of ways to amp up your daily makeup routine. When a mask is covering the lower half of your face, your eyes will be the main focal point for your makeup.
The good news is, when it comes to eye makeup, the possibilities are endless. Ever wanted to try wearing a more dramatic look? Now is the time! Always wanted to wear a fun pop of color on your eyes? Go for it. Don't know where to start? I can help.
Eyeliner Tips
As a makeup artist, I have found that liquid black eyeliner is a classic and effortless way to bring attention to the eyes and it suits every eye color and shape. If you have never used liquid eyeliner before and are intimidated by the application, I have some tips for you.
For your first attempt, I would recommend that you use liquid eyeliner with a felt tip applicator. Once you have your product, you can first practice on the back of your hand. Start with a series of thin lines and try to keep them uniform. Once you get the hang of that, begin making thin lines that gradually thicken and again try to keep the lines uniform. The key to liquid eyeliner application is control.
When you feel comfortable on the back of your hand, try it on your eyes. To avoid the dreaded skipping, do not try to draw your line in one fell swoop and do not stretch out your eyelid. Look straight into a mirror and start with the eye that feels less comfortable. What does that mean? Most people find that one eye is easier to do than the other and if you start with the eye that is more difficult, it will be easier for you to match the lines on each eye. Start with a thin line by the inner corner of the eye and take it between a third to halfway across. Look straight into the mirror to check placement. After that, either start where you left off and continue to the outer corner or start a line at your outer corner and bring it in until you connect, whichever is more comfortable.
You can experiment with different types of lines to find whatever suits you. A thick line all the way across will make the eyes appear rounder, while a thin line will provide definition. The most common and classic look is a thin line that gradually thickens, which gives the eyes a more elongated and lifted look. Don't worry if you don't get it right the first time, it takes practice and I promise you will master it in no time.
If you are not a big fan of wearing much eye makeup, there are more natural eye makeup techniques that simply enhance your eyes and give you a more polished look. A faint hint of eyeliner on both your top and lower lids and a few swipes of mascara can make a world of difference. Take a black or brown eyeliner pencil and draw a line of small dots on the top and bottom lids and smudge using a pencil brush like Bdellium Tools Studio Line Eyes 716, or even a cotton swab. For more staying power, use a little bit of a neutral brown eyeshadow to smudge and set your liner to last all day.
Don't Forget Your Brows
No matter what your preference is for eye makeup, now that the most visible portion of your face is your eyes, it is more important than ever to groom your eyebrows. Your brows frame your face and who wants a lopsided frame? Filling in your brows is super easy. To determine your ideal brow shape, take a pencil and line it straight up right next to your nose and note where the pencil lies on the brow bone. That is your ideal starting point, Now, keeping the pencil next to your nose, tilt the top of the pencil until you reach an angle where the pencil aligns with the outer third of your lower eyelid to find your outer finishing point. Once you have determined your two points, and using your natural brow shape as a guide, fill in your brows and taper them off at the end and seal or set brows with a brow powder or gel. A world of difference, right?
Hopefully, we will be back to normal sooner than later. In the meantime, I hope these tips help make wearing a mask more bearable. Stay safe and healthy!