Current International Beauty Favorites
DISCLAIMER
This blog has not been approved by your local health department and is not intended to provide diagnosis, treatment, or medical advice. Read More

This blog has not been approved by your local health department and is not intended to provide diagnosis, treatment, or medical advice. The content provided on this blog is for informational purposes only. Please consult with a physician or other healthcare professional regarding any medical or health-related diagnosis or treatment options. Information on this blog should not be considered as a substitute for advice from a healthcare professional. The claims made about specific products throughout this blog are not approved to diagnose, treat, cure, or prevent disease.
It looks like the most traveling we will be doing in 2021 is from our bedroom to the kitchen, about 100 times a day. And speaking of the kitchen, I can't stop snacking: anyone else? Since we can't travel the world this year, the next best thing we can do is travel the world with our nighttime skincare routine and take in the beauty rituals from every corner of the globe.
Here are some of my current beauty favorites from Japan, Korea, New Zealand and France.
Favorite J-Beauty Products
First things first: we have to remove our makeup. Even if you don't wear makeup, and only wear SPF (which I hope you are!), you should still go in with a double cleanse. If you've been into a more minimalist lifestyle during quarantine, Japanese beauty, or J-Beauty, may be for you as you "Marie Kondo" your beauty stash. J-Beauty is all about a "less is more" mentality when it comes to beauty. It focuses on a 3-step routine: cleanse, hydrate, and seal.
Cleansing is the step that is focused on the most, with an emphasis on gentle ingredients. If you wear heavy makeup, you should go in with a cleansing oil.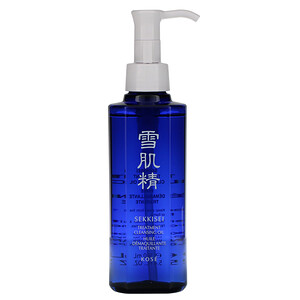 One of my favorite cleansing oils is the Sekkisei Treatment Cleansing Oil. It's formulated with luxurious Asian botanicals and herbs that give it its rich texture that is effective at removing impurities and dirt in the most gentle way possible. I feel like I'm at a Japanese beauty spa when using this. It's important not to apply too much pressure or rub your face while cleansing. Even though it is a cleansing oil, this one washes off without you giving you any kind of greasy feeling and leaves your skin feeling luminous and fresh.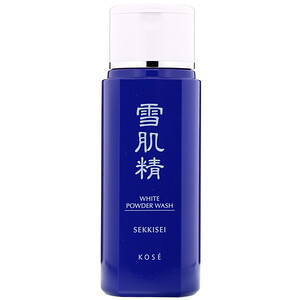 If you aren't wearing makeup, then go in with Sekkisei White Powder Wash instead. This is a cleansing powder that turns into a creamy lather when in contact with water. It's very effective at removing surface dirt and excess sebum without leaving your skin feeling harsh. A little bit goes a long way with this one!
Now that your heavy makeup and SPF are washed off, the next step should always be followed by the "wash-off" process using a foam or gel cleanser. Japanese and Korean skincare routines both place a strong emphasis on the importance of double cleansing.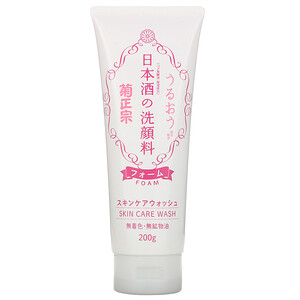 I like using Kikumasamune Sake Skin Care Wash Foam—it's the perfect affordable gentle cleanser that is suitable for all skin types. A lot of Japanese skincare uses fermented rice as an ingredient and personally, it's one of my favorite ingredients in cleansers. The fermented rice not only gives your skin a gentle exfoliation but also helps to brighten your skin complexion, all the while adding back hydration. My skin feels so soft after going in with the first two cleansers.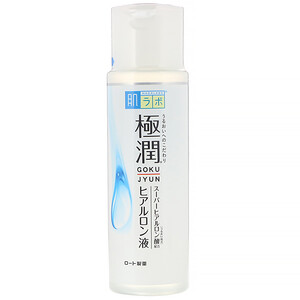 Now that our skin is squeaky clean, let's go in with some hydration to bring back the pH of our skin. The Rohto Hada Labo Gokujyun Hydrating Lotion is hands down one of the most hydrating toners I have ever tried. It's formulated with three different types of hyaluronic acid molecules that allows for deep penetration into the skin, hydrating the skin in and out. It is an incredible hydrating booster, especially for dry winter skin. The intense hydration you get from one bottle represents the beauty of Japanese skincare—maintaining a healthy balance of water in oil without too many skincare steps.
The Best K-Beauty Products
Vitamin C is one of my favorite ingredients to brighten up my skin and help with my hyperpigmentation. But it's also a dangerous ingredient if you don't use one that is stabilized and safe enough for the skin to use.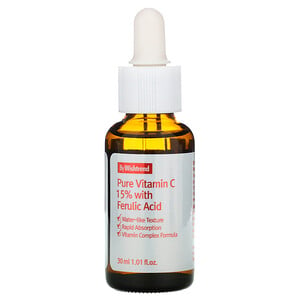 Wishtrend Pure Vitamin C 15% with Ferulic Acid is a low-irritant serum formulated with pure vitamin C and its derivatives. The ferulic acid in it helps balance out the sensitivity with its high percentage of antioxidants. And unlike many vitamin C serums out there, this one is so hydrating with its watery gel texture and gives you that glowy, glass skin finish. Even those with sensitive skin can use this and you'll see a much brighter complexion after using it every day.
Sheet masking is a big form of self-care for me. Throw on a sheet mask, watch a show, read a book, get a glass of wine, and let the mask work its magic on your skin. The simple action releases all the happy endorphins in me.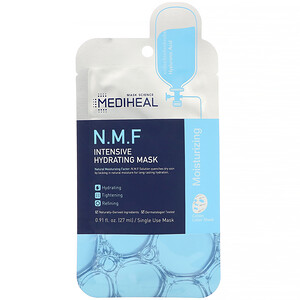 My favorite sheet mask that I've been using for the last 5+ years is Mediheal N.M.F Intensive Hydrating Mask. Mediheal is Korea's #1 sheet mask company, and I love how they continuously innovate their formulas over the years. The hydrating one leaves my skin feeling like I got a hydrating injection shot—it's perfect for a skin boost.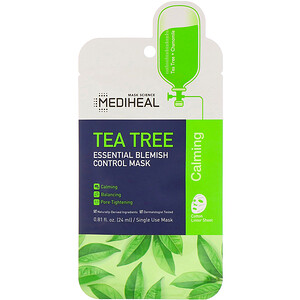 But when your skin is feeling irritated and inflamed, go in with Mediheal Tea Tree, Essential Blemish Control Mask. The tea tree, centella, and chamomile in the mask does a great job at calming your sensitized skin while controlling excess oil.
Now we seal it in. Snail mucin is one of the buzziest ingredients in the skincare world ever since it became popularized by Korean skincare. I know, it grosses some people out, because you're literally putting snail slime on your face, but if you are ready to make that sacrifice for beautiful skin, you will reap the rewards. Snail mucin is such a powerful ingredient for many reasons—it gives your skin an instant boost of hydration, and helps encourage the production of collagen, which ultimately leads to youthful-looking skin. In addition, it has healing properties that calm irritation and redness.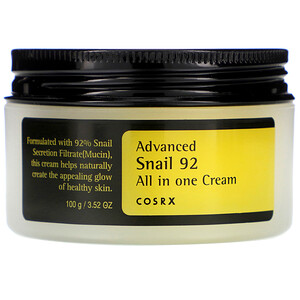 Cosrx Advanced Snail 92 All in One Cream is one of my all-time favorites. It's a repair cream that helps improve uneven skin tone, refine bumpy skin texture, and give a more youthful complexion. It's formulated with a high concentration of snail mucin (a whopping 92%!) and collagen to add back intense nourishment to the skin without it feeling greasy.
More Essential Beauty Products From Around the World
If your skin is super dry, especially in the winter, a moisturizer may not be enough to really lock in that moisture overnight. If that is you, go in with one last step with a hydrating oil.
I specifically love Trilogy Rosehip Oil Antioxidant +. Trilogy is a New Zealand brand and best known for this product and deservedly so. They started the skincare brand with the discovery of skin-loving properties of rosehip oil and it inspired their whole range of products. Rosehip oil is amazing for the skin because of its fatty acids that add back moisture and elasticity to dull, sagging skin. Add a drop or two on top of your moisturizer before you get your beauty sleep.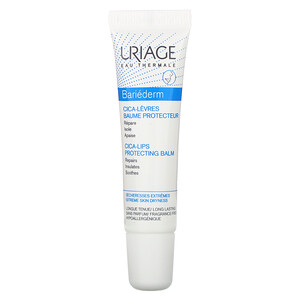 If you are like me and have insanely chapped lips, going in with a thick layer of lip balm before bed is crucial. I typically like using a fragrance-free lip balm before bed and Uriage Bariederm Cica-Lips Protecting Balm is perfect. This product from France is special because it insulates your lips with its balmy texture but also helps to repair by adding a protective barrier over your lips. The ingredients in this are sourced from the heart of the French Alps with its rich source of minerals that help to hydrate, soothe, and protect. Seal in those lips and good night!