Must Have Products for Frizz-Free Hair
DISCLAIMER
This blog has not been approved by your local health department and is not intended to provide diagnosis, treatment, or medical advice. Read More

This blog has not been approved by your local health department and is not intended to provide diagnosis, treatment, or medical advice. The content provided on this blog is for informational purposes only. Please consult with a physician or other healthcare professional regarding any medical or health-related diagnosis or treatment options. Information on this blog should not be considered as a substitute for advice from a healthcare professional. The claims made about specific products throughout this blog are not approved to diagnose, treat, cure, or prevent disease.
In this article: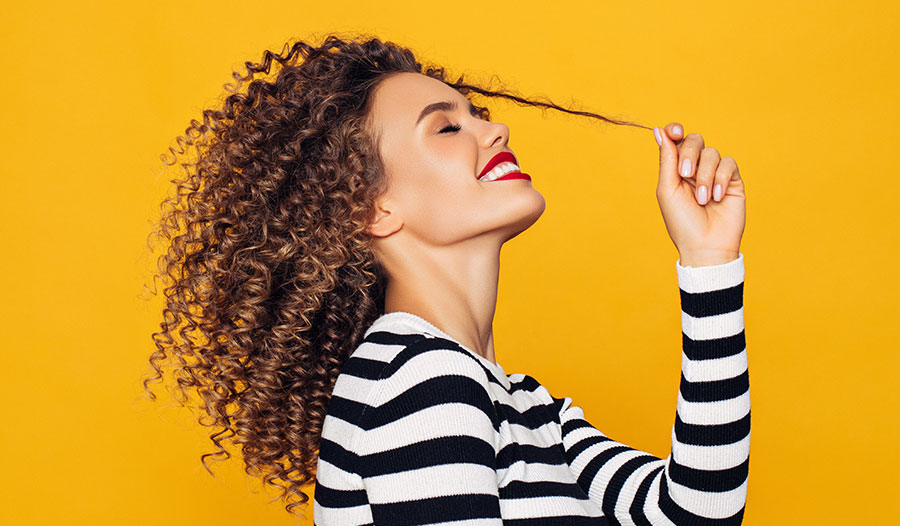 Heat and humidity can ruin your best-laid plans and your carefully styled hair. You don't want your time and money to go to waste when there are ways to prevent a poofy mess! And you don't have to have your hair in a bun all the time. Let's talk about how to rock that luscious head of hair, frizz-free.
Frizz is common in the summertime, but you don't have to live with it. The question is, how do you fight it? It may seem out of your control, but it's not. In this article, we will discuss why hair frizzes, ways to prevent and relieve frizziness, and products that will give you great hair.
What Causes Hair to Frizz?
To understand how to control frizz, we first have to learn why it happens in the first place. Frizziness in hair happens when moisture infiltrates the hair cuticle. Ideally, a healthy hair cuticle should be smooth and closed, but the drier and more damaged the hair, the more open it becomes—and the more open, the more moisture gets in. Also, some factors cause hair to frizz even more, including humidity, washing your hair in extremely hot water, using hair products with harsh chemicals, excessive heat styling, over washing, and towel drying. (Yes, the friction from towel drying can ruffle the cuticle and intensify frizz!)
This is why it's vital to emphasize hydration and moisture as preventative measures and treatments in your hair care routine to help avoid and control frizz. These are your secret weapons. Try these wonderful products to stop frizzy hair before it starts so you can have a frizz-free time.
Moisture-Boosting Products to Tame Frizz
Deep Conditioning Treatment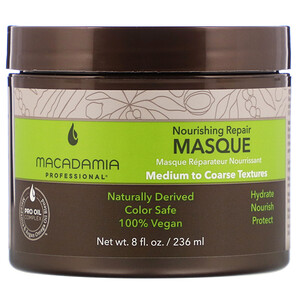 The Macadamia Professional Nourishing Repair Masque has brought my hair back to life many times. If your hair is seeking moisture, flexibility, nourishment, and shine this product is for you! This is my all-time favorite treatment and perfect for the summer because the hair tends to become dull with the weather changes. This product is my holy grail!
Protein Treatment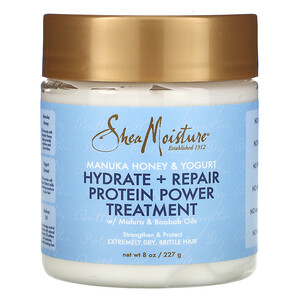 The SheaMoisture Hydrate + Repair Protein Power Treatment is what you use when your hair has suffered damage and you need it to come back to life. This intensive protein treatment is designed for over-processed hair that needs some revival. Use this to help strengthen your hair and reduce breakage, naturally reinforce, and revitalize. The Manuka honey and yogurt deep condition the hair for stronger, shinier, smoother strands. Use this once a week, for 10-15 minutes before washing, and watch the magic happen.
Hair Oil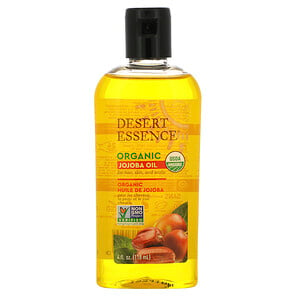 Hair oil is the finishing touch on my hair routine. Oil helps give your hair that freshly cut, healthy look, and locks everything in place—especially moisture! After applying any serums, leave-ins, or treatments, rub a little bit of Desert Essence Organic Jojoba Oil (a little goes a long way!) in your hands and apply it to dry hair, starting with the ends. You will automatically see a boost in shine. This is a vital step if your hair frizzes easily, has dry ends, is color-treated, or you are looking for extra shine and moisture. Pro tip: if you're looking for that beachy look, rub a little oil in your ends till you get that piece-y result.
Leave-In Conditioner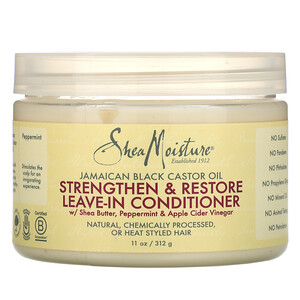 If there is anything you need to prioritize in your frizz-fighting routine, it's a good leave-in! Especially one designed to control frizz. The SheaMoisture Jamaican Black Castor Oil Leave-In-Conditioner is the first product I reach for after I get out of the shower. It goes hand in hand with my shampoo and conditioner. This incredible product softens your hair, helps detangle, and most importantly, controls the frizz! The best part is that it's suitable for all hair types, both natural and color-treated, and all styles.
Hair Serum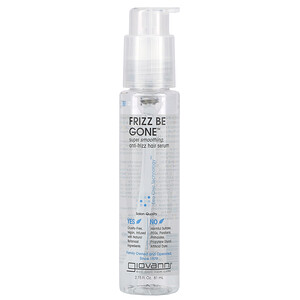 Aside from a good leave-in, it's important to have a product in your routine dedicated to anti-frizz to ensure your hair looks the same when you get back home as it did when you left. The Giovanni Anti Frizz Serum packs a punch while still being cruelty-free and vegan. It will control your frizz and add shine, but the best part is that it has humidity control and provides heat protection from styling products.
Curl Reactivator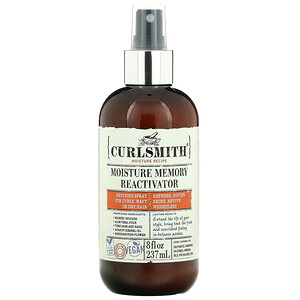 Use the Curlsmith Moisture Memory Reactivator if you're trying to revive your curls, or simply add some oomph. Especially after color treating your hair or excessive styling, your natural hair can start losing its natural bounce. This curl reactivator helps resurrect your curls—while also conditioning and priming for styling! It also helps extend the life of your styling so you can go longer between heat applications. Spray onto dry hair to rehydrate your style or as a leave-in on damp hair after you get out of the shower.
Frizz Prevention Products
Heat Protector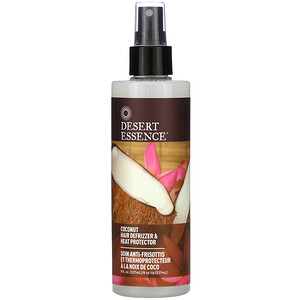 Taking precautionary measures to protect the hair allows you to treat it more easily. The Desert Essence Coconut Hair Defrizzer & Heat Protector spray may prevent the cuticle from being exposed to extreme heat. This fantastic product contains jojoba and coconut extracts that may help nourish brittle hair and restore the scalp's moisture. It also has panthenol or vitamin B5, which seals the hair's surface to protect it from heat, whether from heat tools or the sun on those scorching summer days. Additionally, it has a delicious coconut scent that I enjoy very much!
Frizz-Free Mousse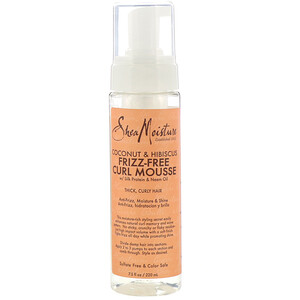 On those hot and humid summer days, the hair likes to be a bit out of control. To create a stronghold on waves or curls, I recommend the SheaMoisture Frizz-Free Curl Mousse. This mousse is an excellent moisture-rich styling tool that doesn't leave the hair sticky, fights frizz, and makes the hair voluminous with a soft finish.
Microfiber Towel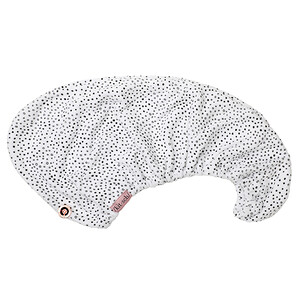 Watch your hair transform with the Kitsch Quick Drying Microfiber Hair Towel! Switching to a microfiber towel can make your hair smoother because of its absorbent material and gentle texture. Roughly towel-drying your hair can irritate the cuticle, causing annoying frizz. Standard cotton terry towels cause frizziness because they are coarser in texture, whereas microfiber material is softer, creating less friction on your strands. Microfiber towels are also super absorbent, which can cut your drying time by half! It is also travel-friendly and great for all hair types.
Satin Pillowcase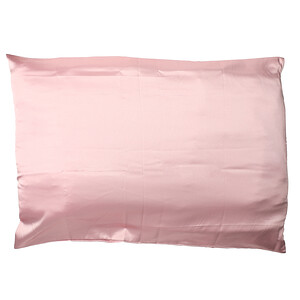 Are you waking up to frizzy, dull, and unmanageable hair every morning? Here is your new solution! The Giovanni Satin Pillowcase has changed my life. Not only does it reduce hair friction to help prevent frizz and hair breakage, but it is also fantastic for my skin. This satin pillowcase helps the hair glide over the gentle and soft material when you move throughout the night. You will never use another pillowcase again!
Say Goodbye to Frizzy Hair
Our hair can be at high risk for frizz in the summer, from the sun, heat, and humidity. If you're spending more time outdoors, remember to take extra good care of your hair. With the incredible products mentioned above, you will be fully equipped and prepared for happy, frizz-less hair!